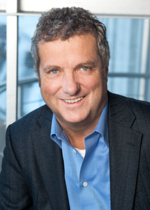 Sylvain Lafrance is an Adjunct Professor at Executive Education HEC Montréal and Director of the HEC Montréal Media Management Hub and the Gestion magazine.
Mr. Lafrance began working at Radio-Canada in 1978 as a journalist. In the fall of 2005, CBC/Radio-Canada's Board of Directors appointed him Executive Vice-President of Radio-Canada's French Services, entrusting him with the consolidation of Radio-Canada's radio, television and Internet services to create one of the world's largest French-language public radio broadcasting groups, and the only one in North America.
In October 2011, he left Radio-Canada and became an Adjunct Professor at HEC Montréal, a position he still holds today. He is also the Director of Gestion, a quarterly journal on the latest trends in the world of management. Mr. Lafrance is also Director of the HEC Montréal Media Management Hub, a reference in the fields of knowledge transfer and media management training.
Mr. Lafrance studied at the University of Ottawa (recreation), Université du Québec à Hull (industrial relations) and the Centre de formation des journalistes in Paris before obtaining his Master's in Public Administration at the École nationale d'administration publique (ENAP). He also completed study programs at the University of British Columbia as well as at Harvard Business School (AMP 168).
Mr. Lafrance chairs the Executive Board of the Conseil des arts et des lettres du Québec (CALQ) and sits on the Board of Directors of the Attraction Médias group.
He is a member of the Order of Canada, a Knight of the Order of the Pléiade—a title awarded by the Parliamentary Assembly of La Francophonie—a Knight of France's Order of Arts and Letters and a Knight of the French Legion of Honour.
For more information on Sylvain Lafrance, click here.